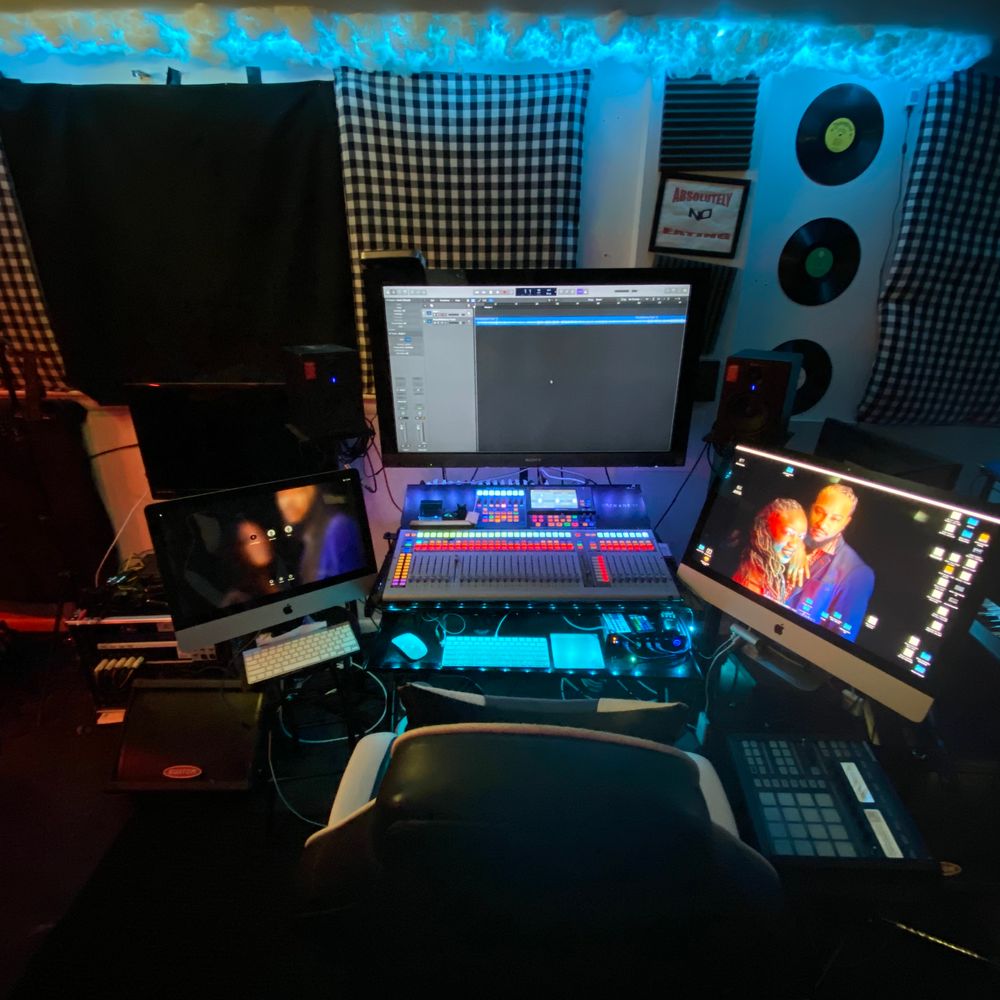 J-Lah Studio
J-Lah. Studio
Founded by Johnnie & Laraba Castro in 2008.
Why should you record at J-Lah. Studio?
J-Lah. Studios, has been given a rating of four stars for Analog & Digital Recording in a underground studio by "Recording Mag" .(recordingmag.com)
For Artist who have the interest of making a long-term investment in there music career deserve and expect to have a professional sounding recording that they feel they can present to any record labels, A&R's, managers, and most important there fans.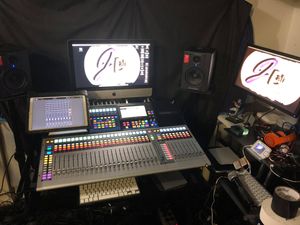 J-Lah. Studio is equipped with a variety of DAW software that is used by our engineers to enhance your music projects of any style. J-Lah. Studio has been built with a great level of acoustic treatment that makes recording any set of drums, keyboards, bass, lead guitars, horns, percussion and many other instruments or any style of vocals. J-Lah. Studio mixes on a 5.0 monitoring system and is equipped for Mixing & Mastering. This is the same monitoring system that has recorded Artist such as, Jill Scott, Erykah Badu, Martha Munizzi, Paramore, Flyleaf... and so many more. What will you get out of your session? Vocal and Instrument recording. (Mixing & Mastering is set at a different rate)  Your rate will include Studio rental, engineer , instruments, amplifiers microphones and  cd/email- mp3/wav copy of final mix down. (CD's are $10.00 per CD)

Studio Rates
Hourly rate: $50.00/hour  
10+ Hour block: $40.00/hour
Multi-track recording of rehearsal: $20.00 flat fee  
 
Mixing and Mastering Rates
Mixing:  $100.00/song
Mastering: $75.00/song.  
Mixing and Master packages:
Package #1 Songs (1-3)   $425.00 ($100 discount)
Package #2 Songs (4-6)   $850.00 ($200 discount)
Package #3 Songs (7-10) $1500.00 ($250.00 discount)
*Any additional song after 10 will be the single song rate of $100 for mixing and $75 for mastering.*  
Session Musician/Vocalist Rate: Start @ $100 per song.
*Rates rates subject to change based on musicians/vocalist'  personal rate*
Music Production/Tracks Rates
Single song rate: $100.00/song
Packages:
Package #1 Songs (1-3)   $350.00 ($100 discount)
Package #2 Songs (4-6)   $750.00 ($150 discount)
Package #3 Songs (7-10) $1300.00 ($200 discount)
Lessons
Vocal: (virtual or in-person) $35.00/hour
Vocal Arrangement: $40.00/hour
Bass: (virtual or in-person) $50.00/hour
Engineering: $60.00/hour
Video Recording/Streaming
Zoom Streams w/ High Quality: $250.00 (includes setup, break down and copy of recording. Rates subject to change based on location)
Live stream w/ high quality encoder for HD Quality: $300.00 
Live Stream or Multi-track Recording form J-Lah Lounge: $400.00 (fee separate and apart from lounge rental)
Lounge Rental/Live Events: $100.00/hour (rental may be subject to proof of certificate of insurance)
**Engineer Fee for live streaming set-up $250.00**
Photography 
(includes editing)
50 shots: $100.00
100 shots: $150.00
150 shots: $200.00
200 shots: $300.00
*subject to a travel of $50 for up to 20-miles
Multi-Track Recording for Live Events:
(up to 24 inputs): $1000.00
(Up to 64 inputs):$1500.00
**rates subject to change if additional equipment is requested. Includes travel (based on a 20-mile radius), load in/load out, setup and breakdown, multi-track recording on SSD drives.
Multi-Track Stem Rack Rental:
4 hours: $600.00
6 hours: $750.00
8 hours: $900.00
Sound Assessment:
$100.00 * $50 fee added to travel beyond 20-mile radius. 
Sound Engineer Service: 
$600.00
Installs:
$1200.00 Starting fee 
Stem Programming:
5-songs     $150.00
10- songs  $275.00
20-songs   $450.00 ($50/song thereafter)
**Normal turn-around 3-weeks**
1-week turn-around $150.00
2-week turn-around $75.00
*5-song minimum*
Booking Information 
Contact: J. Parker -JLahProductionsmanagement@gmail.com